Jack Coffey Field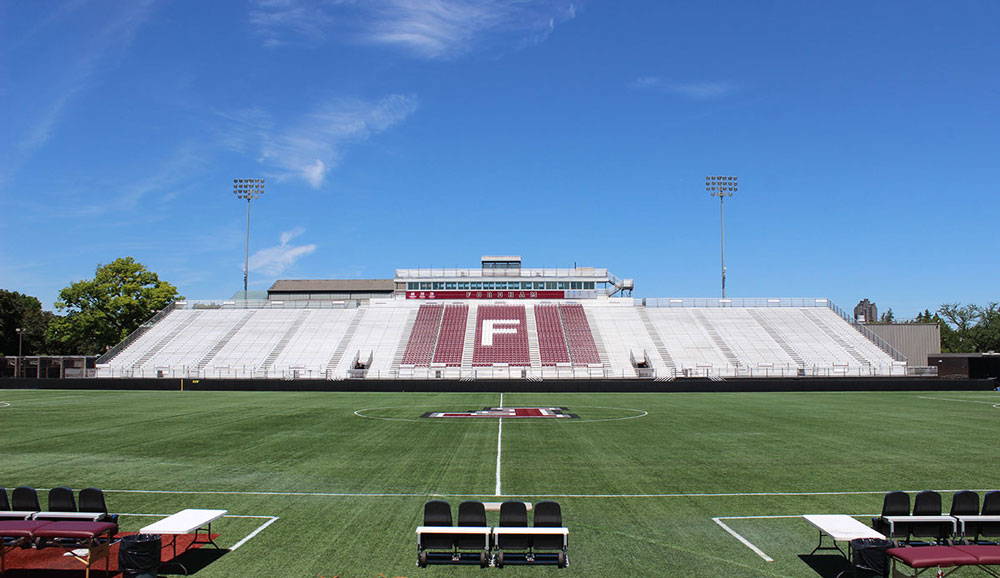 One of the centerpieces to Fordham University Athletics is Jack Coffey Field, which serves as home to the Fordham football and soccer teams, while also being used for the intramural and club sports programs.
Jack Coffey Field has taken on different forms over the years, but received its most recent look, starting in 2005, as the playing surface, which was natural grass, was replaced with FieldTurfTM, one of the top artificial surfaces in the world.  This project was part of a major effort to improve all athletic fields at Fordham.
The updated field features FieldTurfTM for both the football and baseball fields along with lights,  baseball dugouts, and a grandstand for baseball.  In addition to hosting the football and baseball Rams, the newly surfaced Coffey Field also hosts the men's and women's soccer teams and is available for the intramural and club sports programs.
FieldTurfTM is a privately held company that holds worldwide patents on its products and methods of installation.  It is currently used by a host of National Football League teams, including the New York Jets and Giants at the New Jersey Meadowlands, as well as by numerous collegiate teams, including the University of Nebraska, the University of Washington and the University of Oregon.
In 2012, Jack Coffey Field got another new addition with a full-color video scoreboard, made by DakTronics.  The new display has the ability to show video, in game statistics, and more.  In summer 2014, a new playing surface was installed along with a new Daktronics sound system mounted on top of the scoreboard.
Jack Coffey Field is named for the former Graduate Manager of Athletics and baseball coach, Jack Coffey, who spent 44 seasons at Fordham.  With Coffey as Graduate Manager of Athletics, Fordham pushed forward to national prominence in the field of sports, notably football, track, baseball, and basketball.  Under his guidance, Fordham football squads appeared in the Sugar and Cotton Bowls, the Maroon basketball teams participated in both the NCAA and National Invitation Tournament twice, and the baseball team made two NCAA appearances.
Coffey was elected to the Helms Foundation Collegiate Baseball Hall of Fame in 1954 and was also among the first class of inductees to the Fordham University Athletic Hall of Fame in 1971.  The baseball field was named in his honor in 1954 and when Fordham restored football in 1964, the football Rams also called Coffey Field home.  The plaque dedicated that day in 1954 summed up what Jack Coffey meant to Fordham and to Fordham men.  It hails the pensioner as "A true sportsman scholar and Christian gentleman."